Rotary Club of Asheville Diversity, Equity, and Inclusion (DEI)
The Rotary Club of Asheville's DEI Committee is working hard to expand the diversity of our club's membership, ensure that we promote equity towards all in our club's processes and resourcing, and insisting upon inclusion of all of our members in our club's leadership, committees, and projects. This will be our focus not only within our club, but also to make a positive and like-minded impact within our community. Here's a link to our DEI Committee's initial plan of action.
---
Our Club's DEI Statement
The Rotary Club of Asheville is committed to building and maintaining an inclusive and diverse organization where each individual is heard, respected and valued, regardless of age, ethnicity, race, color, abilities, religion, socioeconomic status, culture, sex, sexual orientation, and gender identity and expression. We acknowledge that real harm is done by indifference, systems of oppression and discrimination. We refuse to turn away.
We must act. We will actively seek education about equity issues, identify what is unjust, and use our power as individuals and as a Club to work towards solutions that are fair to all. Diversity enhances the opportunity for personal growth and elevates the quality of our club's service to the community. By empowering each member and acting together to promote equity and inclusion, we will create a welcoming, accepting, and supportive culture in our Club and our community.
---
Our Club's Inaugural DEI Project
Club member J Hackett and GRIND have created "Revitalize Asheville's Black Wall Street," a project funded by grants and supported by local partners. (See more below.) Research shows that the quickest way for a Black person to develop personal wealth is through entrepreneurship. GRIND intends to support the growth of these businesses so they can reach tangible financial goals.
Project Goals include: 20 Black businesses enrolled in the program will generate $250,000 in revenue in 12 months and increase their revenue by 300%. Our Club is uniquely positioned to support this work. Many of our members have valuable business expertise. By encouraging members to volunteer as mentors, providing services, and becoming customers/clients of these businesses we can invest in the success of this important project.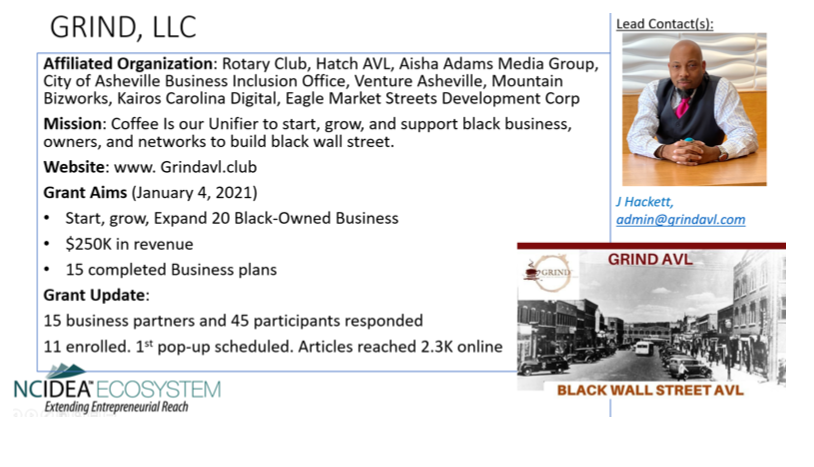 ---
Below is a list of current DEI resources to facilitate awareness and encourage action:
Rotary Statements on DEI
District 7670 DEI Vision and Mission Statements
Northern Virginia Rotary Clubs Public Statement on DEI
---
Rotary International's DEI Resource Guide
Click here for a list of Rotary articles, webinars, and program guides for expanding clubs' DEI efforts.
Rotary's DEI Task Force
---
Videos and Webcasts
When Heritage Equals Hate: The Truth About the Confederacy in America
Watch live as Jeffery Robinson, the ACLU's top racial justice expert, discusses the dark history of Confederate symbols across the country and outlines what we can do to learn from our past and combat systemic racism.
ACCOUNTABILITY AND INCLUSION: A ROTARY DEI SERIES. Throughout 2020-2021, Rotary will host a webinar series to explore diversity, equity, and inclusion. Registration will be announced eight weeks prior to each webinar, and recordings will be posted here. Topics are subject to change.
Reparations Deliberation: A Discussion on Black Liberation: An Evening with Racial Justice Coalition leaders Rob Thomas, Tashia Ethridge, and David Greenson.
---
Organizational Action Guides
Awake to Woke to Work. Using this guide produced by Equity in the Center, ground yourself in the process of building a Race Equity Culture. Explore the levers that drive change and the stages that mark transformation using the Race Equity Cycle. In collaboration with over 120 experts in the fields of DEI and race equity, this guide provides insights, tactics, and best practices to shift organizational culture and operationalize equity.
---
Books
Stamped from the Beginning: The Definitive History of Racist Ideas in America, by Ibram X. Kendi
How to Be an Antiracist, by Ibram X. Kendi
Caste: The Origins of Our Discontents, by Isabell Wilkinson
Stony the Road: Reconstruction, White Supremacy, and the Rise of Jim Crow, by Henry Louis Gates Jr.
Grant, by Ron Chernow
Roots of Division: Uncovering What Lies Beneath America's Racial Divide, by Curtis Chesney
---
Dr. Darin J. Waters's Presentation to our Rotary Club
To watch a recording of the September 17, 2020 presentation click here.

Several of you have asked me for resources mentioned in his program. Attached you will find a copy of his essay. Click here to be directed to his radio show website; a full list of past episodes can be found there. Click here to be directed to his personal website, where you can find more resources, including links to his writing. Click here for more information about his upcoming conference, African-Americans in Western North Carolina and Southern Appalachia.

Among the books he recommended were:
Democracy in America, Alexis de Tocqueville
Black Reconstruction in America, 1860-1880 and The Souls of Black Folk, W.E. DuBois (and other assorted essays by the author)
Mirror to America, John Hope Franklin
Reconstruction's Ragged Edge, Steve Nash
Legacies of the Civil War, Robert Penn Warren
And he highly recommends The Atlantic magazine

I will close with the quote he ended with, John B. Gordon's Response to Robert Shaw, head of the United Confederate Veterans. of the GRA, in 1900:

"When he tells me and my Southern comrades that teaching our children that the cause for which we fought and our comrades died is all wrong, I must earnestly protest. In the name of the future manhood of the South I protest. What are we to teach them? If we cannot teach them that their fathers were right, it follows that these Southern children must be taught that they were wrong. I never will be ready to have my children taught that I was ever wrong, or that the cause of my people was unjust and unholy. Oh my friends, you were right, but we were right too."
---
Potential Local Projects for Future Partnership
---