Rotary Club of Asheville Foundation, Inc.
2019-21 Project List and Budget
Our club's 501c3 foundation funded over 20 local and international projects for a combined total impact of nearly $175,000! Click below to contribute to our club's foundation.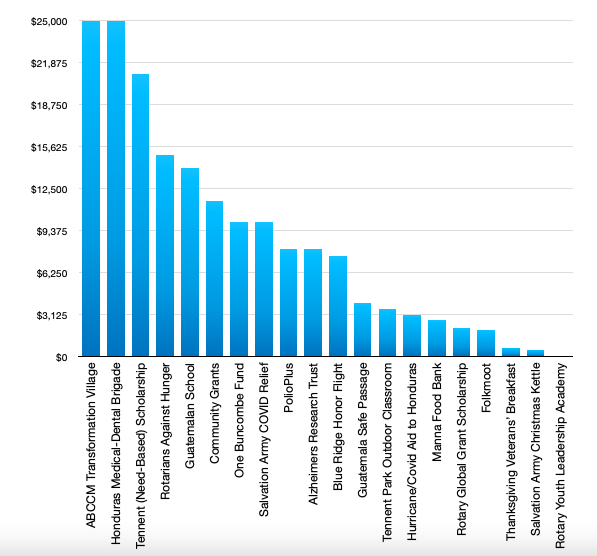 Women and Children's Home. Our club contributes funds and volunteers for Asheville-Buncombe Community Christian Mission's (ABCCM) Transformation Village which provides housing, training, and support for homeless women and children in Buncombe County.
2019-21 Budget: $25,000
Honduras Medical-Dental Brigade. The club leads an annual team to Honduras that provides dental and vision services for villagers in remote, poor areas. The team includes physicians, technicians, and administrative volunteers that have served thousands of patients.
2019-21 Budget: $25,000
Hurricane and Covid-19 Aid to Honduras. We provide monetary assistance to the Rotary Club of Copan Ruinas to deal with the aftermath of Hurricanes Eta and Iota, two category 4 hurricanes that devastated Honduras in the midst of the Covid-19 pandemic.
2019-21 Budget: $3,050
Tennent Scholarship Program. This fund provides needs-based scholarships to deserving Asheville High seniors. Our club administers the entire program including applicant screening, recipient selection, and mentoring of graduates as they embark upon their college journey. Here are our 2021 winners.
2019-21 Budget: $21,000
Guatemalan School. We are partnering with a Rotary Peace Fellow, David LaMotte, and his non-profit, PEG Partners, to build and sustain a preschool in the Mayan village of Tzanchaj, Guatemala. Our club funds are leveraging nearly $100,000 in Rotary Global and District grants to support this project.
2019-21 Budget: $14,000
Rotarians Against Hunger. We partner with six area Rotary Clubs to organize, fund, and execute an annual large food packing event that provides meals for needy Western NC families. Since 2010, Rotarians Against Hunger has partnered with Manna Food Bank to provide over two million meals to hungry families.
2019-21 Budget: $15,000
Blue Ridge Honor Flight. We provide leadership, volunteers, and funds to fly war veterans to Washington D.C. to visit the memorials and honor their service. Since 2003, the club has partnered with Blue Ridge Honor Flight to fly over 2,000 veterans to Washington.
2019-21 Budget: $7,500
Community Grants. Our club contributed an initial endowment and provides supplemental funding to the Community Foundation of Western NC (CFWNC) that provides annual grants to competing non-profits in the Asheville area. In addition to funding, our club provides a team of volunteers that solicits, screens, and selects winning grant applications.
2019-21 Budget: $11,530 (additive to CFWNC grant)
One Buncombe Fund. One Buncombe is a community COVID-19 response fund providing relief to small businesses and individuals and to lessen the impact of COVID-19 for our neighbors in need.
2019-21 Budget: $10,000
Salvation Army COVID-19 Relief. In the midst of the pandemic we supported our local Salvation Army's efforts to feed and shelter hungry individuals and families and provide badly-needed supplies and PPE for volunteers and those in need.
2019-21 Budget: $10,000
PolioPlus. Our club provides financial support and educational awareness for Rotary International's program to eradicate polio around the globe. Since its inception, PolioPlus has reduced global polio cases by 99.9% since 1988.
2019-21 Budget: $8,000
Coins for Alzheimer Research Trust (CART). Each week we collect donations for this program that provides funds for research to develop a cure for Alzheimer's Disease. Since 1995, CART has provided over $8.2M to Alzheimer's research.
2019-21 Budget: $8,000
Guatemala Safe Passage. Safe Passage ("Camino Seguro" in Spanish, the national language) is a top-rated nonprofit organization working in Guatemala City, Guatemala since 1999 to bring hope, education, and opportunity to the children and families trying to make a living around the city's garbage dump.
2019-21 Budget: $4,000 (includes $2,000 district grant)
Tennent Park Project. Our club provides volunteers and funding to maintain an outdoor classroom at UNC-Asheville named in honor of former Rotary International President Buzz Tennent who was a member of the Rotary Club of Asheville.
2019-21 Budget: $3,550
Rotary Youth Leadership Academy (RYLA). We provide scholarship funding and volunteers in support of a weekend camp that provides leadership training for local area high school students.
2019-21 Budget: $0 (suspended due to Covid-19 pandemic)
Manna Food Bank. We provide monetary and volunteer support to help feed hungry families across Western North Carolina.
2019-21 Budget: $2,700
Rotary Global Grant Scholarship. Our club sponsored a young woman for a scholarship to attend the London School of Economics where she will earn a Masters in Health and International Development. Our club's financial support leveraged a Rotary Scholarship valued at nearly $40,000.
2019-21 Budget: $2,100
Folkmoot. We provide financial support for the annual international folk festival centered in Waynesville, NC. We believe the folk performances help break down barriers and build cross-cultural understanding.
2019-21 Budget: $2,000
Thanksgiving Breakfast for Veterans. Each Thanksgiving we raise funds and recruit volunteers to serve breakfast to over 100 needy veterans at ABCCM's Veterans Restoration Quarters in Asheville, NC.
2019-21 Budget: $600
Salvation Army Kettle Campaign. Each Christmas our club sponsors a Salvation Army Red Kettle and provides a team of bell ringers that generates over $1,000 to needy families doing the holiday season.
2019-21 Budget: $500